Aerial & Surveys
Bring a new perspective to your marketing strategy! A bird's-eye view is often the best way to show visitors around a large complex, museum, campus or park. An aerial view gives a unique perspective to your project and property. It is created after the digital 3D model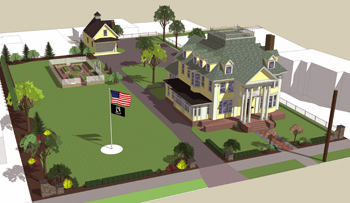 Grand Victorian Site Renovation
A proposal drawing to show planned renovations to an existing home.
From provided photos and plans
A proposal drawing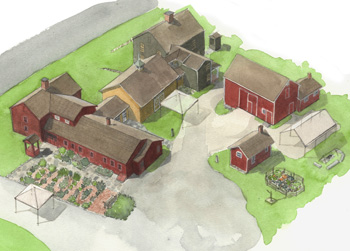 Wilton Historical Society
Antique and new buildings comprise this museum. There were no plans to work from, so a series of measurements and photographs served as reference. A digital 3D model was developed and the drawing was done from that.
From measurements and photos
11 x 14 inches
On high-quality watercolor paper
For their Visitor Map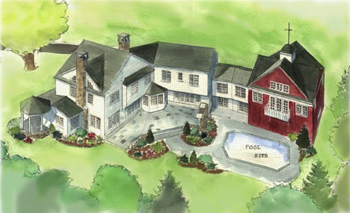 Antique Farmhouse Renovation
It was not possible to take a photograph showing all this unique property had to offer. An aerial rendering showed not only what was there, but the approved pool site as well. For this effect, a digital 3D model would be developed and the drawing done from that.
From provided plans photos
On high-quality watercolor paper